Klipsch Image ONE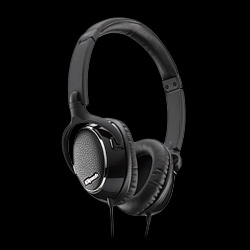 The Image ONE stereo headphone brings high-performance Klipsch sound to people who prefer an on-ear design, and is among the first to feature an Apple-based mic and three-button remote for taking calls and controlling music on iPods, iPhones or iPads.
Full music and/or voice control on select Apple products
Adjustable leather headband for custom fit
Professional grade foam ear cups provide premium comfort and noise isolation
Ear cups fold flat for easy storage/travel
Colors: Black w/chrome and leather accents
Amazing Comfort and Fit

These compact headphones are extremely comfortable and offer the same powerful, detailed sound reproduction that has made Klipsch a popular choice among discriminating listeners since 1946. Each lightweight, pivoting ear cup features premium leather and a special high-density memory foam for hours of listening pleasure and superior passive noise-isolation, which blocks out ambient noise and provides enhanced bass. And unlike noise-canceling designs, the Image One does not require batteries. Just plug them into any device with a standard 3.5mm headphone jack and you're ready to enjoy the full impact of your tunes.
The Image ONE stereo headphone is also one of the first on-ear headphones to feature an Apple-based mic and three-button remote system for taking calls and controlling music on iPods, iPhones or iPads. The mic and remote functionality support the following Apple products: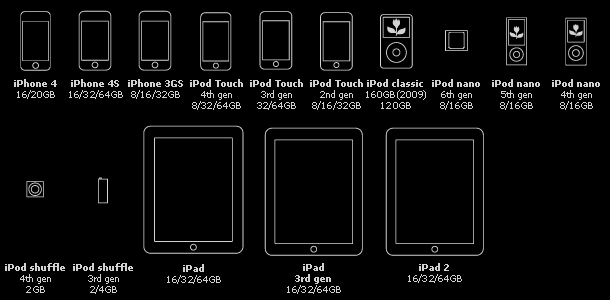 The controls are positioned at the cable yoke — where the two cables meet at chest level — to create a more natural feel when answering calls and controlling music. The mic is a highly intelligible 360 degree design with echo cancellation, so your voice will be heard crystal clear without having to talk down, or directly, into it.
Furthermore, because cable durability is so important, Klipsch has gone to great lengths to make the Image ONE cables both robust and discreet. The Image ONE features thicker cable to help minimize unwanted tangling. The cable is also molded into the plug for improved strain relief. These headphones have undergone extensive resistance and strength testing to ensure they stack up to virtually every real-world scenario.
Premium Sound
At the heart of every Klipsch product is over 60 years of audio expertise beating strong. Our commitment to no-compromise performance has made us the preferred choice of top cinema operators, a leader in stereo and home theater sound and now a premium name in headphones.
The Image ONE stereo headphone covers a wide frequency range with dynamic detail and delivers strikingly realistic sound with a moving coil 40mm speaker.
Added Frills
The Image ONE is available in a sleek black finish with chrome and leather accents. It comes with a 2-year warranty and includes an airline adaptor, ¼" adaptor and premium carrying case.
BUILT FROM: 2010
DESIGN: On-ear, Dynamic Moving Coil 40mm Speaker
DIMENSIONS: Driver diameter: 40mm; Packaging: 9.9″ H x 7.5″ W x 2.7″ D
DRIVE COMPONENTS: Full Range KG 150
FEATURES: mic+3-button remote
FINISH: Black/Chrome
FREQUENCY RESPONSE: 16Hz – 23kHz
INPUT CONNECTIONS: 3.5mm
INPUT IMPEDANCE: (@ 1kHz): 32 ohms
SENSITIVITY: (@ 1 mW, 15 mm): 110dB
WEIGHT: 138.3 grams