Klipsch Image S4 II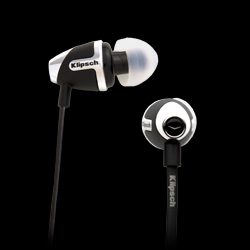 Available colors:
From a tin shed to inside your head, Paul W. Klipsch's award-winning sound lives on in our Image S4 headphones. Put the concert in your cranium with the S4's powerful coil drivers, whose wide frequency range allows you to experience everything from soul-thumping bass to spine tingling highs. The S4's superior noise-isolating design allows you to seal in the sound, while our patented oval ear tips (available in 4 sizes) keep you rocking in comfort.
Noise isolating in-ear headphones with enhanced sleek profile
Award winning sound delivers deep bass and full range clarity
Patented oval ear tips provide comfortable wear for hours
Perfect seal keeps your music in + blocks outside noise
New tangle resistant flat cables

Amazing Comfort and Fit
It doesn't matter how great a pair of headphones sound if they are painful to wear. Unlike traditional, circular-shaped ear tips which don't fit properly, the Image S4 headphone utilizes a patented oval ear tip design making them virtually impossible to feel and perfect for long-term wear. The oval ear tip creates a perfect seal resulting in superior noise isolation, blocking out almost all ambient noise and providing excellent bass. With Klipsch Image S4 headphones, your plane rides, commutes and workouts will be a private and enjoyable experience every time you plug in.
Premium Sound
When he founded Klipsch in a tiny tin shed in Hope, Arkansas in 1946, American audio pioneer Paul W. Klipsch had an unyielding desire to channel live sound directly into the ears of listeners everywhere. He stopped at nothing and defied convention giving rise to his legendary Klipschorn loudspeaker. Today, PWK's passion and principles still grace every product we make. Enjoy your Klipsch headphones for their flat frequency response, controlled directivity, low distortion, high-efficiency and, as our founder intended, for their ability to connect you with your favorite music.
The Image S4 utilizes our renowned duel magnet driver technology to deliver strikingly realistic sound and cover a wide frequency range with dynamic detail. With award-winning acoustics and jaw-dropping bass response, the Image S4's bring the concert experience to you, wherever, whenever.
Functionality
The Image S4 works with virtually any device with a standard 3.5mm headphone jack. Prepare to plug in and rock out!
Added Frills
Available in black or white the Image S4 headphone comes with four pairs of different-sized patented oval ear tips, a protective carrying case and includes a 2-year warranty.
Accessories Include:
4 Pairs of different sized ear tips
Protective carrying case
ACCESSORIES: 3 different-sized ear tips, storage case
BUILT FROM: 2012
DESIGN: Dynamic Moving Coil Micro Speaker
DIMENSIONS: 8.5mm diameter
DRIVE COMPONENTS: Full range KG 25
FREQUENCY RESPONSE: 10Hz – 19KHz
INPUT CONNECTIONS: 3.5mm
NOISE ISOLATION: -16
NOMINAL IMPEDANCE: 18-ohm
SENSITIVITY: 110db SPL/mW
SPECIAL FEATURES: Flat, tangle resistant cable
WEIGHT: 11.9 grams