Klipsch Image S4A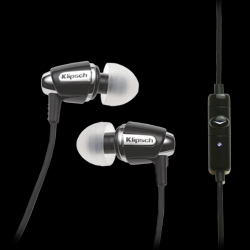 The power is in your hands. And now, your ears.
A note about compatibility:
Motorola Droid Razr (running Android 4.0 or later)
When running Android 4.0 or later MotoBlur conflicts with Klipsch Control, preventing the device from properly receiving button commands. Klipsch Control continues to work properly on the Droid Razr with Android 2.3.6 and on other devices running Android 4.0.
Samsung Galaxy S II, Samsung Captivate,
Due to software conflicts, the Klipsch Control app is not fully compatible, specifically, the Klipsch S4A™ headset only supports voice control, call "Answer" and "End" functionality. Klipsch continues to work on an update to allow full functionality on these devices.

Introducing the first-ever Klipsch headphones designed specifically for Android™. The Image S4A headphones successfully merge the functionality of your Android mobile device with the sonic fidelity of Klipsch. It's a perfect fit, just like our included patented oval ear tips. Compatible with devices running Android 2.2 or later, you can keep the world under your thumb with push-button control for music and calls. Control is the key. With the free Klipsch Control App*, you can customize functionality of your calls and music. Noise-isolating locks you into the moment. In-case you ever take them out, the unstoppable S4A comes with a protective carrying case.

Answer/end calls
Mute microphone
Redial

Volume up/down
Play/pause
Track forward/track back
Patented oval ear tips best fit the natural shape of your ear
Noise-isolating design blocks outside noise

Voice search
Voice command
*In order to enable functionality of your S4A headset, you must download the free Klipsch App. Compatible with devices running Android 2.2 or later.
BUILT FROM: 2011
DESIGN: Dynamic Moving Coil Micro Speaker
DIMENSIONS: 8.5mm diameter
DRIVE COMPONENTS: Full range KG 25
FREQUENCY RESPONSE: 10Hz – 19KHz
INPUT CONNECTIONS: 3.5mm
NOISE ISOLATION: -16
NOMINAL IMPEDANCE: 18-ohm
SENSITIVITY: 110db SPL/mW