Klipsch Image S4i II
Available colors:
Bring your iTunes playlist to life with the legendary sound of the Image S4i headphones. Designed for audiophiles' favorite Apple products, the S4i comes with a three-button control and mic, allowing you to control the concert and your phone calls. Our award-winning drivers deliver a full range of frequencies, allowing you to experience your favorite artists like never before. And with the S4i's comfortable design and durable structure, you can play your passion endlessly.
Noise isolating in-ear headphones with 3-button remote + mic
Award winning sound delivers deep bass and full range clarity
Patented oval ear tips provide comfortable wear for hours
Perfect seal keeps your music in + blocks outside noise
3-button remote for full music + voice control on select Apple products
New tangle resistant flat cables
Directional mic for hands-free, crystal clear phone calls


Amazing Comfort and Fit
When it comes to comfort, no one beats Klipsch headphones. Our patented oval ear tips naturally fit the contours of your ear canals, providing a secure fit and comfortable long-term wear. With these exclusive ear tips, you'll also get superior noise isolation, a characteristic that lets you enjoy music at lower, safer volumes, as well as achieve excellent bass response. In addition to unequaled comfort, these patented oval ear tips create a perfect acoustic seal to produce Klipsch's renowned, high-performance sound.
Premium Sound
The genesis of something very, very special occurred in a tiny tin shed in Hope, Arkansas in1946. When Paul W. Klipsch invented the Klipschorn, he gave rise to a technology that would impact generations of music lovers. Today, PWK's passion and principles still grace every product we make. Offering the same award-winning acoustics as the Image S4, the Image S4i is equipped with an 8.5mm dual magnet micro-speaker. This advanced audio technology covers a wide frequency range, while delivering dynamic detail for crisp highs, warm mids and deep, smooth bass.
Functionality
The Image S4i's audio works with virtually any device that has a standard 3.5mm headphone jack and features an Apple-based mic and three-button remote for taking calls and controlling music on iPods, iPhones or iPads. Located on the back of the remote is a directional mic for hands-free, crystal clear phone calls.
Made for: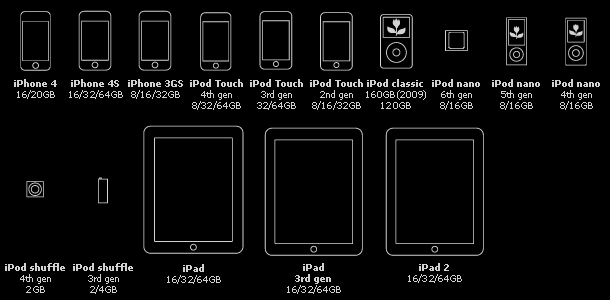 The remote and mic are supported only by iPod nano (4th generation or later), iPod classic (120GB, 160GB), iPod touch (2nd generation or later), iPhone 3GS or later, and iPad. The remote is supported by iPod shuffle (3rd generation or later). Audio is supported by all iPod models and iPad.
Added Frills
Available in black or white the Image S4i headphone comes with four pairs of different-sized patented oval ear tips, clothing clip and a protective carrying case. The S4i also includes a 2-year warranty so you can rest assured that your Klipsch headphones will provide years of listening enjoyment.
Accessories Include:
4 Pairs of different sized ear tips
Protective carrying case
Clothing clip for remote+ mic
ACCESSORIES: 3 different-sized ear tips, carrying case, clothing clip
BUILT FROM: 2012
DESIGN: Dynamic Moving Coil Micro Speaker
DIMENSION: 8.5mm diameter
DRIVE COMPONENTS: Full range KG 25
FREQUENCY RESPONSE: 10Hz-19kHz
IMPEDANCE: 18 ohms
INPUT CONNECTIONS: 3.5mm
NOISE ISOLATION: -16
SENSITIVITY: 110dB SPL/mW
SPECIAL FEATURES: Flat, tangle resistant cable
WEIGHT: 11.9 grams