Klipsch Image S4i Rugged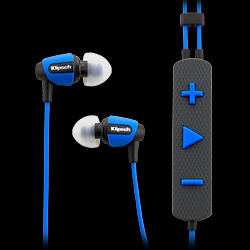 Available colors:
The new Image S4i Rugged Headphones utilize tough rubber moldings and an all-weather design to protect the legendary Klipsch sound from Mother Nature's bad side. Neither rain, sleet, snow, nor concrete jungle can stop the award winning acoustics and live music experience of the Image S4i Rugged headphones. An extra-large, 3-button remote lets you precisely control iPhone calls and music whether you're wearing bulky gloves or are simply on the go. And while the headphones' exterior is built tough, these in-ear headphones have patented oval ear tips to keep you comfortable. Rock the Klipsch Image S4i Rugged earbuds in yellow, orange, blue or red.
All weather design resists moisture and functions thru extreme elements
Same award winning acoustics as the Image S4
Ruggedized with tough rubber moldings
X-large 3-button remote for easy control during outdoor activity
Full music + call control on select Apple products
Directional mic for hands-free, crystal clear phone calls
Patented oval ear tips provide comfortable wear for hours
Available in 4 colors (yellow, orange, blue and red)


Amazing Comfort and Fit
When it comes to comfort, no one beats Klipsch headphones. Unlike circular-shaped ear tips that put stress on the pressure points inside the ear, Klipsch's exclusive oval ear tips naturally fit the contours of your ear canals, providing comfortable long-term wear. These light¬weight ear tips also offer superior noise isolation, blocking out almost all ambient noise and provide excellent bass. Because we want you to be rocking out to your favorite tunes for a long, long time, the seal also allows you to enjoy your music at lower, safer volumes.
Premium Sound
In addition to unequaled comfort, these exclusive ear tips create a perfect acoustic seal to produce Klipsch's renowned, high-performance sound. At the heart of every Klipsch product is over 66 years of audio expertise beating strong. Our commitment to no-compromise performance has made us the preferred choice of top cinema operators, a leader in stereo and home theater sound and a premium name in headphones.
Functionality
The Image S4i Rugged's audio works with virtually any device that has a standard 3.5mm headphone jack; however, the mic and three-button remote support select Apple products.
Made for: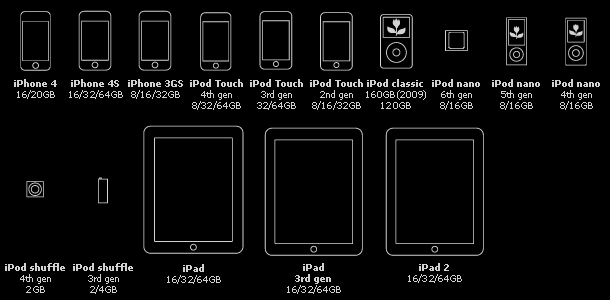 The remote and mic are supported only by iPod nano (4th generation or later), iPod classic (120GB, 160GB), iPod touch (2nd generation or later), iPhone 3GS or later, and iPad. The remote is supported by iPod shuffle (3rd generation or later). Audio is supported by all iPod models and iPad.
Unlike other headsets, the S4i Rugged positions its mic and remote at the cable yoke to create a more natural feel when answering calls and controlling music. The highly intelligible, directional mic means you'll be heard crystal clear and won't have to worry about the external noise around you.
Added Frills
Available in yellow, orange, blue or red, the Image S4i Rugged headphone comes with four pairs of different-sized patented oval ear tips, clothing clip and a protective carrying case. The S4i Rugged also includes a 2-year warranty.
FREQUENCY RESPONSE: 10Hz – 19kHz
IMPEDANCE: 18 ohms
INCLUDED ACCESSORIES: 4 pairs of different sized ear tips, Clothing clip for remote + mic, Protective carrying case
SENSITIVITY: 110dB
WEIGHT: 14.7 grams