Klipsch ProMedia In-Ear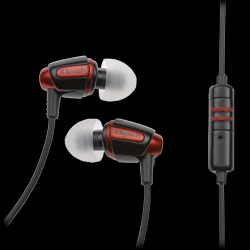 ProMedia has long been a name Klipsch fans have associated with powerful, award-winning computer and gaming speakers. Today, we are taking our intense sound philosophy and applying it to in-ear gaming headphones. In 1999, Klipsch set the standard for high-performance computer and gaming speakers with the launch of the ProMedia v.2-400, the first computer speakers ever to be THX-certified. We're confident the ProMedia In-Ear headphone will have the same impact in the headphone market.
Noise-isolating design enhances music and computer gaming experience
Hands-free mic ideal for online gaming and communication
VOIP/Gaming adaptor (compatible with PC and MAC)
Patented oval ear tips provide comfortable wear for hours
Durable, tangle resistant cables
Colors: Black with red accents
Patent numbers USD 611,929; US 7,681,577; USD 624,901
Intended for computer gaming, the ProMedia In-Ear headphone adds a new dimension to today's highly sophisticated online entertainment. The single-button microphone offers crisp, clear communication for talking to enemies or collaborating with teammates during online gaming, and also makes these headphones a great solution for internet Skype calls and cell phone usage.
Furthermore, because cable durability is so important, Klipsch has gone to great lengths to make the ProMedia In-Ear headphone cables both robust and discreet. With this model, the company is using a new, thicker cable to minimize unwanted tangling. The cable is also molded into the plug for improved strain relief. These headphones have undergone extensive resistance and strength testing to ensure they stack up to virtually every real-world scenario.
Amazing Comfort and Fit
Like all Klipsch in-ear headphones, the ProMedia In-Ear headphone features patented oval ear tips. Unlike circular-shaped ear tips that put stress on the pressure points inside the ear, these oval tips naturally fit the contours of your ear canals, providing comfortable long-term wear. These lightweight tips also offer superior noise isolation, blocking out almost all ambient noise and providing excellent bass.
Premium Sound
At the heart of every Klipsch product is over 60 years of audio expertise beating strong. Our commitment to no-compromise performance has made us the preferred choice of top cinema operators, a leader in stereo and home theater sound and now a premium name in headphones. The ProMedia In-Ear headphones keep gamers fully immersed in their cyber worlds by employing a powerful custom transducer in each ear piece, using an 8.5 mm driver and moving coil technology with a dual magnet motor structure. As a result, the ProMedia In-Ear headphone pumps out the audio goodness—dynamic, full-bodied sound that is similar to more expensive balanced armature designs.
Added Frills
Available in a black finish with red accents, the ProMedia In-Ear comes with three pairs of different-sized patented oval ear tips, carrying case, clothing clip and VOIP/Gaming adaptor compatible with a PC or Mac. The ProMedia In-Ear headphone includes a 2-year warranty.
ACCESSORIES: mic+single button remote
BUILT FROM: 2010
DIMENSIONS: 7.9″ H x 4.5″ W x 1.3″ D (packaging)
DRIVE COMPONENTS: Full Range KG 25A – Dual Magnet, Dynamic Moving Coil Micro Speaker, 8.5mm
FINISH: Black w/red accents
FREQUENCY RESPONSE: 10Hz – 19kHz
NOMINAL IMPEDANCE: 18 ohms
WEIGHT: 11.9 grams